Wake Me Up When September Ends
My daughter filed for divorce in June of 2019. The summer of 2019 me (Grandma and my fiancee) would babysit my grandson for about 3 days every other week. Normally Monday about 8-9 pm until Wednesday 8-9 pm. Those days my daughter would be looking for a job, going on interviews, etc. We live 45 minutes away from each other, have one car, and my fiancee work 14-16 hour days only having Sundays off.
Sept.2,2019 we drive out to pick my grandson up for our babysitting /visit. Drop my grandson off Wednesday Sept.4th 2019.
Thursday, Sept. 5th. the father picks up the child for visitation from mom's house. That morning mom took the child to the park, and the child hit his face on the slide and has a small bruise on his cheek. Mom tells dad what happened and dad asks like its normal since he has a son from another woman (he's 10) dad did not ask any questions.
Sept.9th 2019 Dad goes to the police station in Valparaiso, Indiana, and makes a complaint saying he believes that mom has abused the child.
My daughter and her boyfriend go to the police station and tell them the bruise was not that big and the father did not seem to care that much about it. ( by this time dad was living with another woman and my daughter was seeing her boyfriend)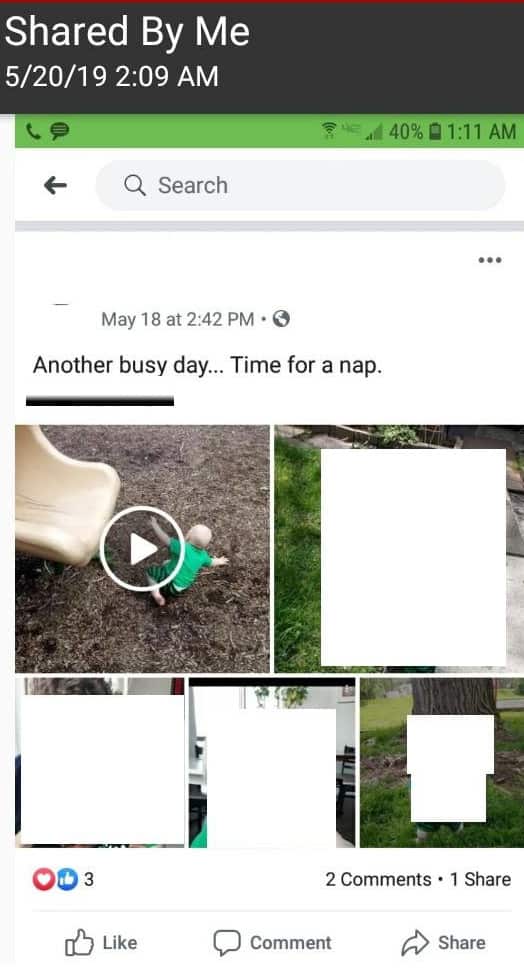 I need to back up to May 20th, 2019. that weekend dad picked up a child for a weekend visit. Sunday, May 19th dad refused to bring chid home to mom. ( i have a text message from dad stating he his not going to bring him home just to be shipped off)
I can not sleep that night, so I go to my computer and play Klondike on Facebook. I get a notification that a friend commented on dad's status. I check it out. I see the post and see a video of my grandson at the bottom of a slide at the park. I click the video. My heart raced and started crying. ( still have a copy of the video) I called Valparaiso Indiana police at 1:24 am. I was told what I saw in the video and I believe the child could be hurt. The child is 14 months old. I was told that the police would do a well-baby check. 1:48 am a female police officer calls me and says the baby is fine. I kept asking questions until she told me she can not talk to me anymore and a supervisor can call me back. 2:17 am Supervisor calls me back.. I found out from him no one looked on the child and the mother of the dad would not let the police in.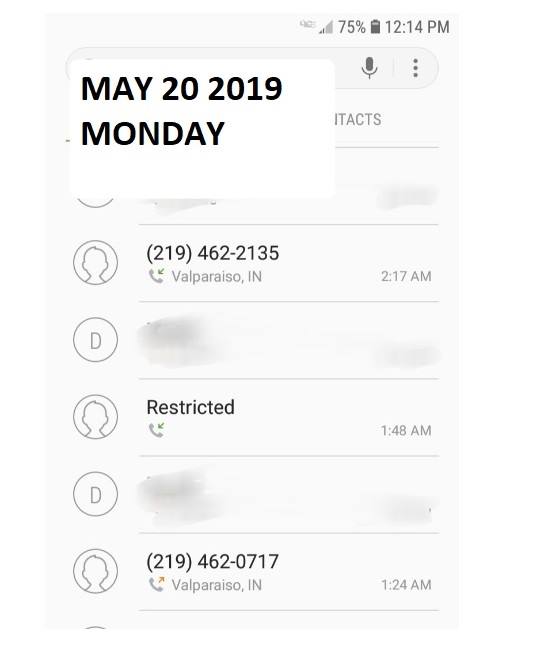 Who is required to report child abuse or neglect?
Indiana is a mandatory reporting state; anyone who suspects a child has been neglected or abused must by state law make a report.
taken right from DCS Monday, May 20th my fiancee took the morning off of work, drove to Valparaiso Indiana to hire my daughter a lawyer. Scott Wangenblast out of Valparaiso. The first order of business was to get the child returned to the mom. Dad brings the child home later that week.
CPS never looked at any evidence, questioned me, when I called up the CPS office in Valparaiso and spoke to her caseworker Spencer I told her who I was how much time I spent with the child told her I have text messages that dad tried to kill himself when my daughter told him she was leaving him, messages from a few years back when he told people he had cancer and way dying( that was a lie he told people he had 6 months to live)
My daughter took her classes when to a therapist she did what she had to do. Supervised visits, me and my fiancee were even approved to go on visits. Any time we could go visit we did my fiancee would take the morning off of work.
February 2020. Unsupervised visits cps would drop off the child during the day and pick up the child at night. End of February 2020 unsupervised visits with overnights.. The child would be by mom Monday morning until Thursday at about noon.
COVID hits ( APPOX early March 2020). CPS can not do transports… Dad drops off the child Monday mornings and mom and boyfriend drop the child off at dads on Thursdays.
April 5th, 2020. dad texts mom that his house has to be quarantined for 10 days due to his girlfriend being pregnant and his cancer is back ( he never had cancer).. April 11th dad posts on Facebook "Took the little monsters to the beach this afternoon." Tagged Indiana national dunes park. can't get a hold of CPS everything is shut down due to COVID.
August 2020. CPS does home inspection at dad's house. The caseworker witnesses the child hurt himself result in a black eye. The caseworker tells my daughter they plan on closing the case just waiting for courts to open.
Middle August 2020.. mom goes to work, the child is left with the boyfriend and the child falls down the stairs outside, scrapes bruises and the other eye is now black. CPS believes mom and boyfriend did not hurt child, mom was at work. Come Monday dad drops the child off at moms…
Sunday, September 13th, 2020.. dad drops the child off at mom's since dad's girlfriend is in labor.
September 17th, 2020 Mom took the child and boyfriend's son ( 3) to the park before nap time .. the boys had fun. Naptime, mom getting ready for work. The boyfriend comes home. As mom is walking out the door the boyfriend puts the child in his bedroom ( the child's room ) so he doesn't see mom leave for work. The child gets very sad broken-hearted when mom has to leave for work. The boyfriend calls me to video chat with the child. The child acts normally when mom is at work. Not talking not having fun with the funny faces you can make.. just quiet with a sad face. The boyfriend brings the child's cup to him.. the child is holding the phone in one hand and the cup in the other. The child just does not want to come out of his room.. the boyfriend's son wakes up from nap brings scooby -snacks to the child .. he holds the phone in one hand eats Scooby- snacks in the other… After 41 mins video chatting with the chid mom's boyfriend walks into the bedroom and says its time to eat dinner. I ask the child if he's hungry he says "yes" the only word he spoke the whole time… The boyfriend and I both say after dinner he can call me again…..
6:58 pm. My daughter texts me and tells me the child's arm is broken the child is at his dad's house.
Sunday, September 20, 2020. 6:56 pm my daughter calls me crying saying CPS just showed up at her work and it's her fault.
For some reason, CPS is blaming my daughter even when her boyfriend said on both accounts she was not at home.