Family and Health Professionals Fighting to Get Children Home
When our oldest daughter started to act out at school being very violent and destructive we started to try to seek help. We did not find any. She got worse. We took her to a therapist after therapist each saying that they can't find anything wrong with her and do not see the issues we are complaining about. She would steal and lie and destroy things and attack people and her mood swings would go from one extreme to the next. Then the false reports started. She claimed we beat her with a baseball bat. It was investigated and closed. Then it's she's hit with the wedding ring on her father's head to which the social worker said it's not a hotline offense but like so many hotlines have been made of
"alleged abuse and neglect"
they wanted to do a well-child check. Then it was sexual abuse but the stories kept coming and kept changing and usually came as a way for her to get out of trouble she had gotten herself into. Essentially deflecting the attention from her to someone else.
In January another hotline came through. The same false allegations. They claimed the oldest daughter had again made an allegation but this time in her 5year old sister's defense. Cps had us do a CAC interview and then took our kids. All four kids. So our nightmare begins. Our son the alleged perpetrator gets sent to his grandma to be abandoned by her two weeks later because she didn't want her life to be interrupted by him. Our three girls ages 11,5,15months went with a niece for about a week and a half and then we're placed in a foster home. At the first meeting, we were assured that if we close the possible criminal case they would allow the girls to come home while they investigate the concerns against our son. They also gave us permission to talk to our children with supervised visitation. That's where the lies started. The police came to interview us and said she didn't see anything wrong with the girls going home but the social worker said she had told us the girls had to stay in foster care for at least 30days. Complete lie but she refused to admit to the lie.we began the battle and started recording. We were not allowed any contact for over 30days with any of our children for NO reason at all and then in court, the cps worker was given an extra 2 weeks before we were allowed contact. They talked about how my 15month old cried for weeks and would not interact with anyone and searched for "something or somewhere safe". My child had never spent any time away from us. She was searching for us. My 5-year-old who had never had anything but normal 5 yr old problems was locked up in a local psych hospital because she was deemed a danger and scared the foster mother who would hide with my oldest and youngest locked in a room while my 5yr old banged on the door. I was devastated. The trauma and damage they are doing to MY babies and blaming us.
We got a lawyer and risked losing everything to pay for the lawyer to fight to get our kids back.
Our lawyer insisted that the CAC with our 5yr old was lead and he could get the case thrown out. But when we walked into court new allegations as well as all old allegations came out. The social worker refused to see me. Refused to have contact with me. She refused to tell us what the case plan was. What the goals were. What we needed to get done. When looking for placement she asked what our religious beliefs were. When I explained them to her she laughed at me and my son's beliefs and asked where in the world he came up with that and asked if it was from a book he had read or a show he had watched. When I asked her if we can petition the judge for our kids back and she told us the court date I asked if we could get a court date sooner and was told no and I asked why and if the judge only sees cases once a month or can we petition the judge. She laughed at me and would not answer the question. Months started to pass with us jumping through the hoops desperate to get our children home. The social worker continued to not call me or keep in contact with me and started to not be in contact with the service providers. The lies continued in court. COVID made it so we couldn't see our kids until August in person. No mention was ever made of the problems we had experienced with our oldest daughter and what we had done to try to help her. On the contrary, they lied in court claiming we had never sought help for her. They said we had contacted the kids knowing we were not allowed to. They claimed we and the family lied about the abuse and were circumventing cps. They said we had spent all of our time trying to close the criminal case and had not been in contact with cps and was not trying to work to get the kids home. They claimed we were not admitting to the allegations and taking responsibility for our own actions. Then the threats began. They told us the case would not move forward until we admit to allegations.
They said my son needed help but refused to give him therapy until late august. We asked for family therapy and did not get that until early September.
My oldest daughter continued to spiral to the point that she spent 3 months in the psych ward after attacking younger children and stating she was going to kill her younger sisters. None of which was ever brought up to the judge. On the contrary, it has been specifically kept quiet and hidden and any mention of her behavior is blamed on the "abuse and neglect" she received. We were told in a court hearing in late August when we petitioned to bring our baby home that they wanted to supervise visitation first and see how that happens and then if that goes well the GAL would personally step forward to suggest the baby come home. Yet another lie. Then the caseworker came to our house and brought up that people on the team were following me on Facebook and saw the groups I was apart of and some of my posts and said that I was not helping my case by doing this and she knows and has known for a while that she is being recorded. My son was disrupted twice early on and then finally found what was believed to be a stable placement. While he was in emergency placement we suggested a family from out of state who was willing and able to take him but was turned down. The caseworker told us if we sent him out of state we would lose custody and may not be able to get him back. His "stable placement" did not last.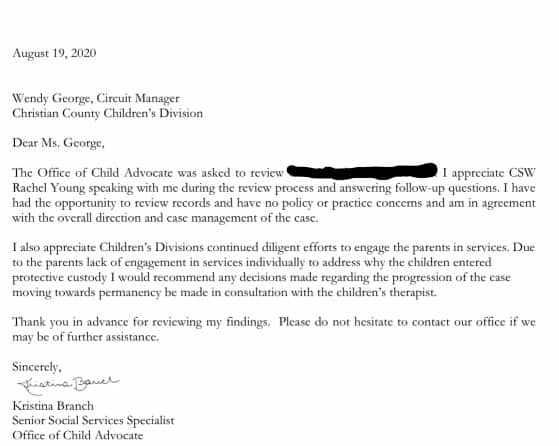 Now we are about 10 months into the case. We have done everything asked of us to prove we want our kids back and there is no problem with us. Now I have a son who is in a psych ward because "they had nowhere else to place him" and will not give him to the family in Tennessee.
We have a caseworker who refuses to have contact with us or the service providers. The "team" refuses to move the case forward at all until we admit to the false allegations. When asking the judge to return our now two-year-old as there are NO allegations in regards to her at all they say "I don't feel comfortable with that. We don't have real reason or argument except we don't feel comfortable with it" and the judge allows it. In court documents, it is even stated that they watch us on Facebook now and we have made posts that are unacceptable. The judge who we have found out is friends with the caseworkers and other officials on our opposition seem to be very biased and will not listen to our defense at all and does not allow us to hold a defense.
The foster parents and several of the service providers have expressed concerns and frustration over the fact that instead of the case moving forward with what we are doing it's stuck when it shouldn't be and confused as to why and what will move it forward.