Possible Wayfair Sex Trafficking Scandal, True or False?
The internet is exploding with the rumor that Wayfair, the online retail giant, may be involved in sex trafficking of children. Let's explore the facts to find out if this is true, or false.
Obviously, Wayfair adamantly denies all such allegations, claiming they are false.
We believe that anyone caught committing such crimes as child sex trafficking would deny accusations.
That being said, we must do our own research to find our whether or not the Wayfair Sex Trafficking claims are true, or false.
To do this, let's explore the 1st piece of potential evidence we received.
Possible Evidence #1001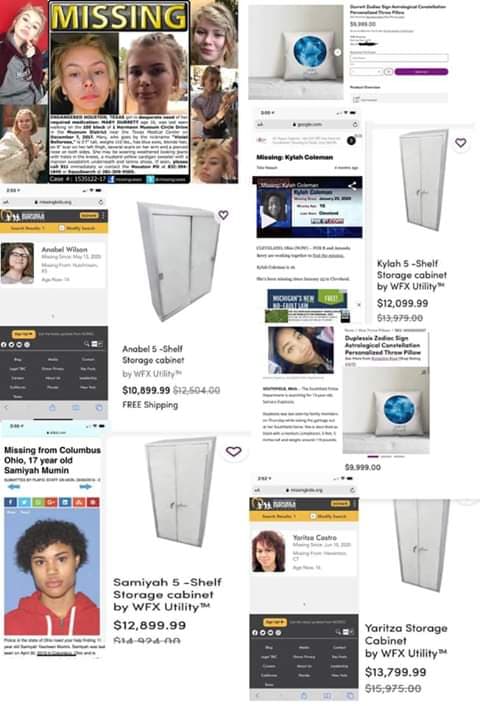 Possible Evidence #1002
In the potential evidence submitted to Fighter Cries, The prices for the cabinets — called Alyvia, Neriah, Samiyah and Yaritza — ranged from $12,699.99 to $14,499.99 each, according to a screenshot posted in the "r/conspiracy" subreddit.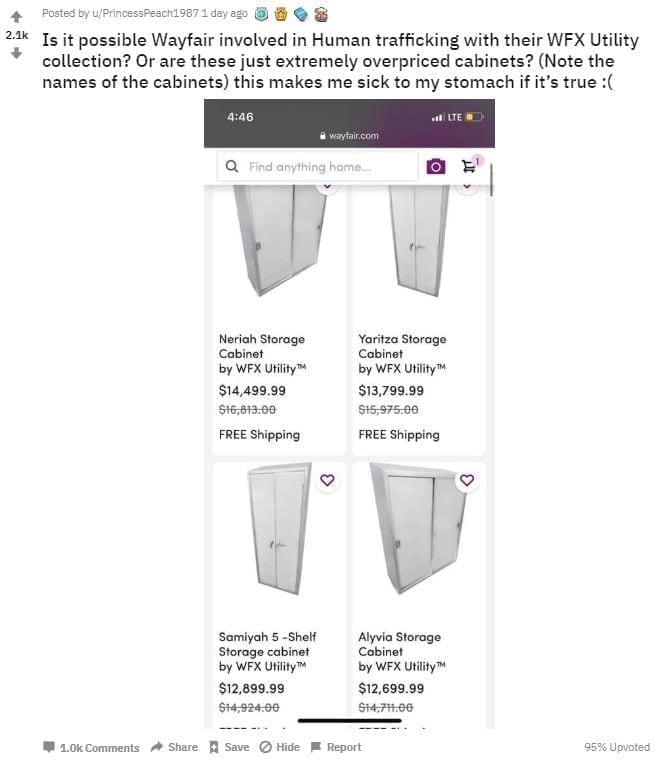 LINK: Reddit "Conspiracy" Category
Potential Evidence #1003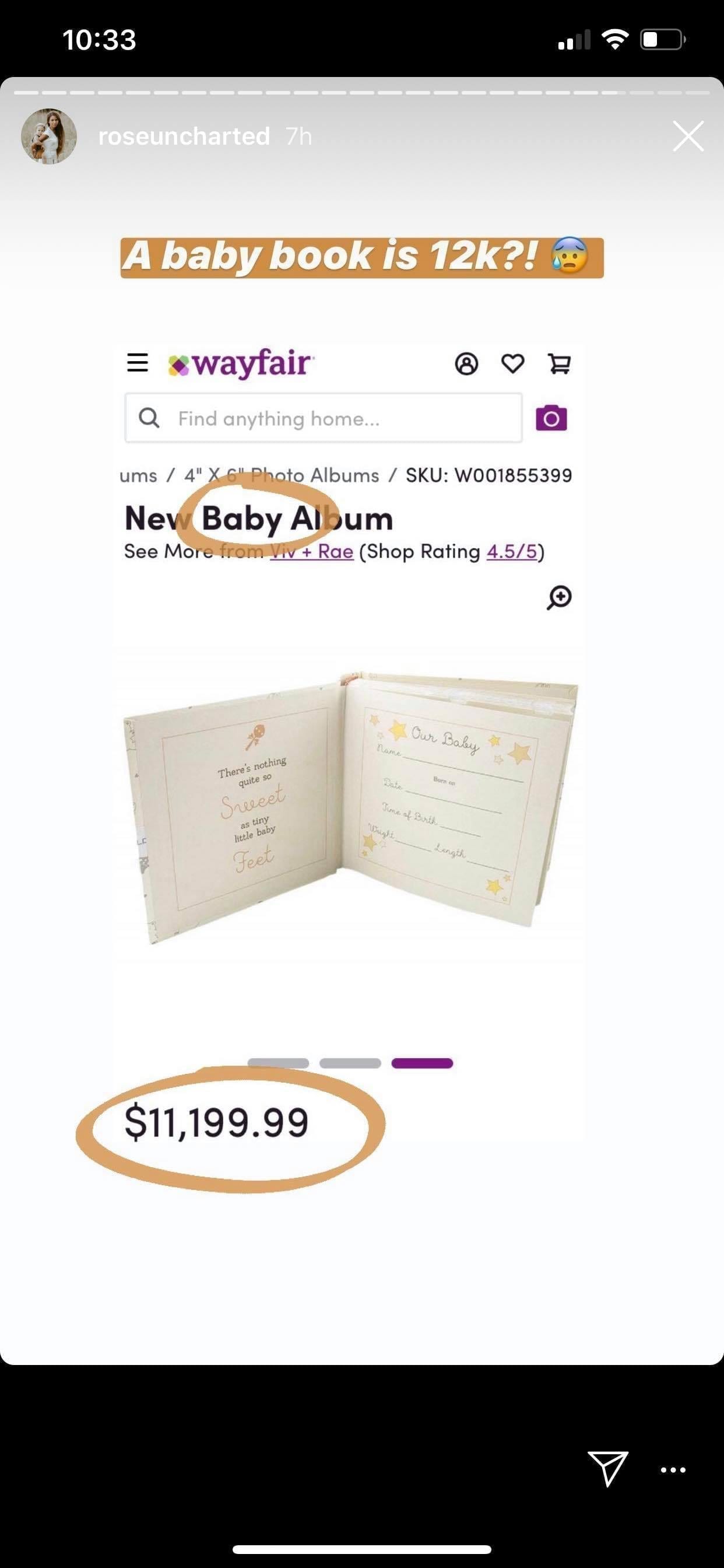 Possible

Evidence: #1004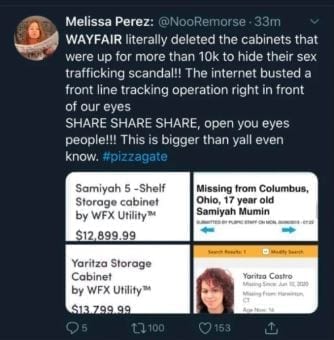 LIVE REPORT: PART #1
Possible Evidence: #1005
NOT MISSING!!
LIVE REPORT: PART #2
WE HAVE TONS MORE EVIDENCE THAT MAY PROVE OR DISPROVE THE WAYFAIR SEX SCANDAL "CONSPIRACY THEORY"
Is it possible that some used Wayfair for the sex trafficking of children. Yes.
Is it possible that is could have happened and no one at Wayfair knew? Yes.
If it did happen, is it more probable that someone at Wayfair knew? Yes.
Do we know either way for sure? No.
We will continue to research more on this breaking story for you, and give you an unbiased report on the finding of the facts.
OFFICIAL OPPINION
Unsubstantiated claim at this time. There is not enough evidence to prove a crime was committed at this time, however, this does not mean it is not true. More research is being performed as you read this.
WHAT TO LOOK FOR
Links. We need links. Find links to Listing Pages that way I can prove they are real, and really on the Wayfair site, or other sites. If this is true, they may have just showed us where to look, large dollar ticket items that are WAY over priced.
HOW TO GATHER EVIDENCE
When you are researching, please look for a link back to the missing children in the photo to prove they are missing, and a link to the original listing or screenshot that shows trackable listing ID # or tags.
That is how we prove or disprove the "Possible Wayfair Sex Trafficking Scandal" "conspiracy theory."
MORE COMING SOON
+
"Judge Orders Mother to Sell Alpaca to Pay GAL"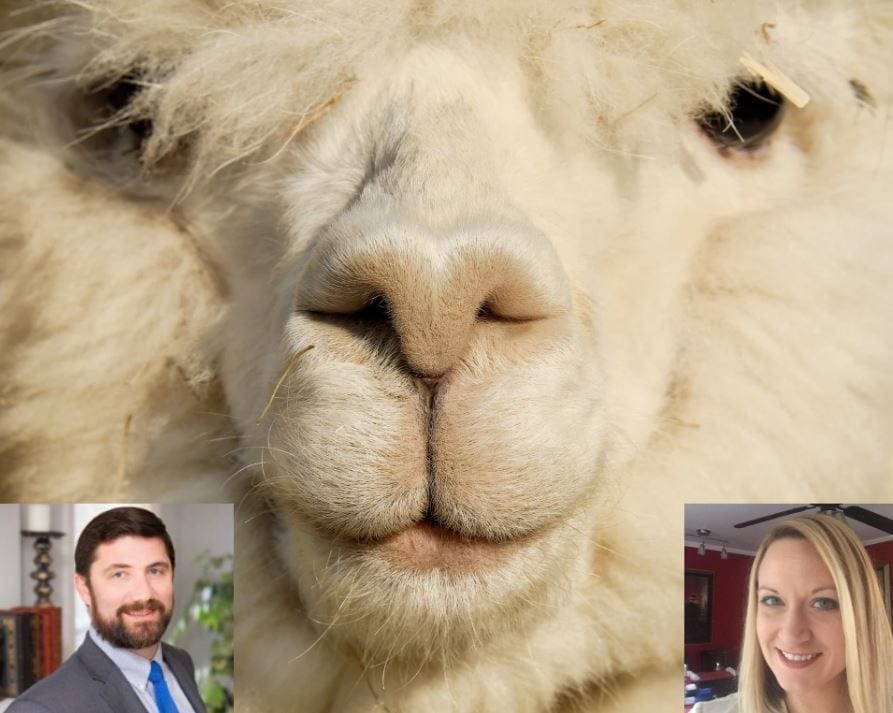 OTHER TOP STORIES