50 State Representative(s)

Fighter Cries is an Online Community Resource Center with a strong organic Victim Advocacy Department to be the voice of the defenseless.
Together, our unified goal is to better the lives of families everywhere with a focus on reuniting children and parents through sustainable solutions.
OVERVIEW
Volunteer State Representatives will coordinate with local State groups & Fighter Cries to help provide better resources within their respective States ensure every voice is heard.
VOLUNTEER POSITION
Fighter Cries is currently seeking Volunteer State Representatives to represent each and every State, Nationwide.
DUTIES
Representatives will work closely with State and local groups & Fighter Cries as a liaison to help coordinate community efforts, streamline publishing, and ensure every voice is heard.
Manage Communication
Preform Basic Reaction Plan R&D
Organize/Oversee Fundraisers
Share State & Nation Content
Possible Protests
Coordinate with other State Volunteers
Existing State Agency Oversight
Direct Victims to Name Search
Direct Victims to Story Upload
Collaborate with Community Organizations
REQUIREMENTS
Professional education, experience, or both.
Basic Computer Skills for Communication Purposes
Mobile Phone
BEST CANDIDATES
Grad Students, Please Apply.
Retirees, Please Apply.
Former CPS/DHS Workers, Please Apply
Teachers, Please Apply.
Community Leaders, Please Apply.
Authors/Editors, Please Apply.
Counselors, Please Apply.
Medical Professionals, Please Apply.
Thank you.
LINK TO: "CAUSES"
LINK TO: "REACTION PLAN" (please read)
LINK TO: "UPLOAD STORY"
p.s. We have a .NET Core 3.1 Application idling with full 360 and Help Request feature on a fully adaptable API foundation, waiting to scale.
More Cause Info: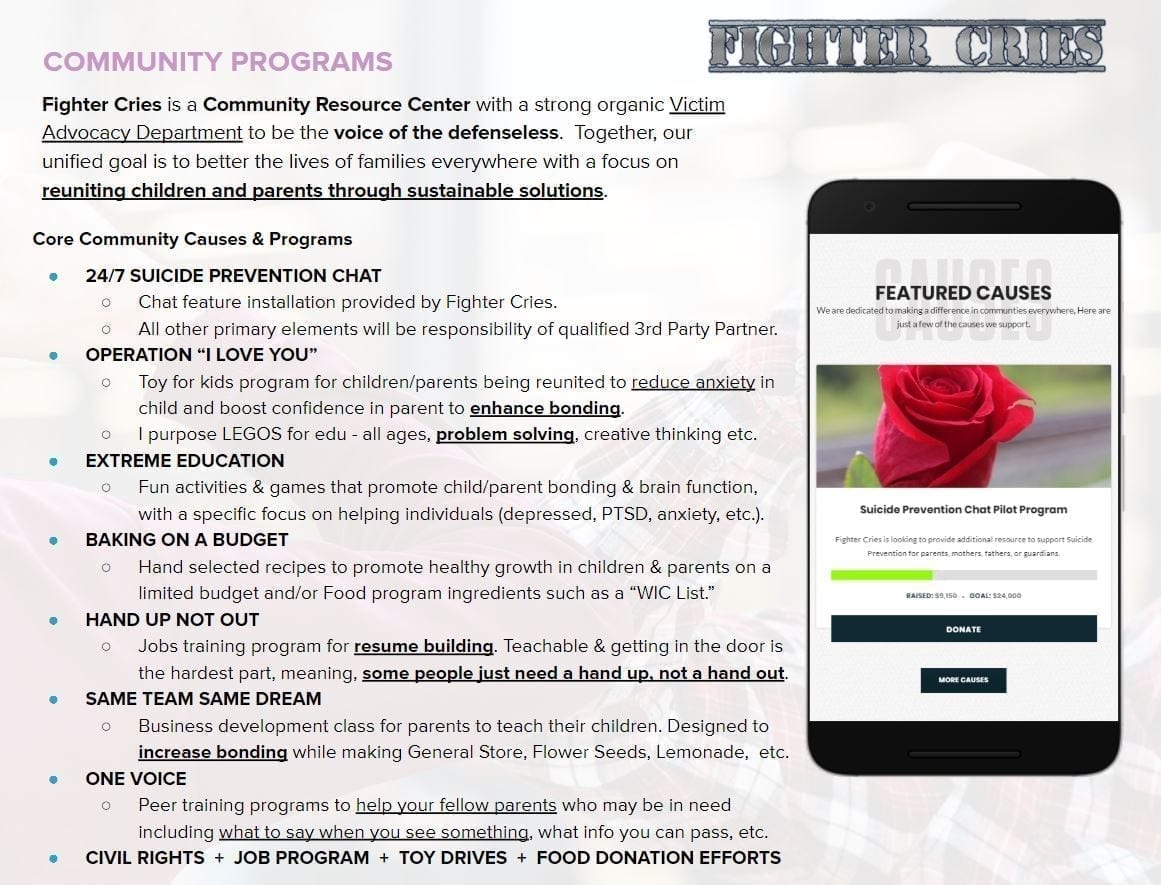 We have #5 pages similar to the one seen here (above). Civil Rights has a page headlined by Police Brutality, Women's Rights has a page headlined by Equal Work Equal Pay, Health & Nutrition has a page headlines by School Food & Gentrified Areas with less nutrient dense food, and we have a Treatment Cause page headlined by AA and NA because I know some very good people in that program and I have a lot of respect for the organization as a whole.
Together we are strong. We Are Many.
What should our 6th "Cause" page theme be? GO!
JOIN US!
Support Change, Support Kimberly Lowe