Judge Allen Sharrett & Attorney Ryan Ferry Violate Mother Rights & Endanger Children
This true story of a corrupt Judge colluding with GAL and Attorney Ryan Ferry, is almost unbelievable, but this mother has over 424 pages of evidence to prove she's right!
Kimberly Lowe is running for Virginia's 75th House of Delegates for 2021 with a plan to improve the lives of everyone.
Not only is she an experienced community leader, but she is also the mother of an autistic child who has special needs, giving her a unique insight into existing Government run agencies, such as CPS, that is all based on extremely credible facts, as seen here from the Appendix page of the 424 page document detailing Virginia court corruption.
UPDATE:
Must read page #151 through $156, it's unbelievable!
QUOTE: "sell an alpaca" to pay for the GAL costs.
Call for Kimberly
Call Gov. Ralph Northam: 804-786-2211
Call VA Atty General: 804-786-2071
Gov. VA: https://www.facebook.com/GovernorVA
VA Atty General: https://www.facebook.com/AGMarkHerring
COMMENT OF THE WEEK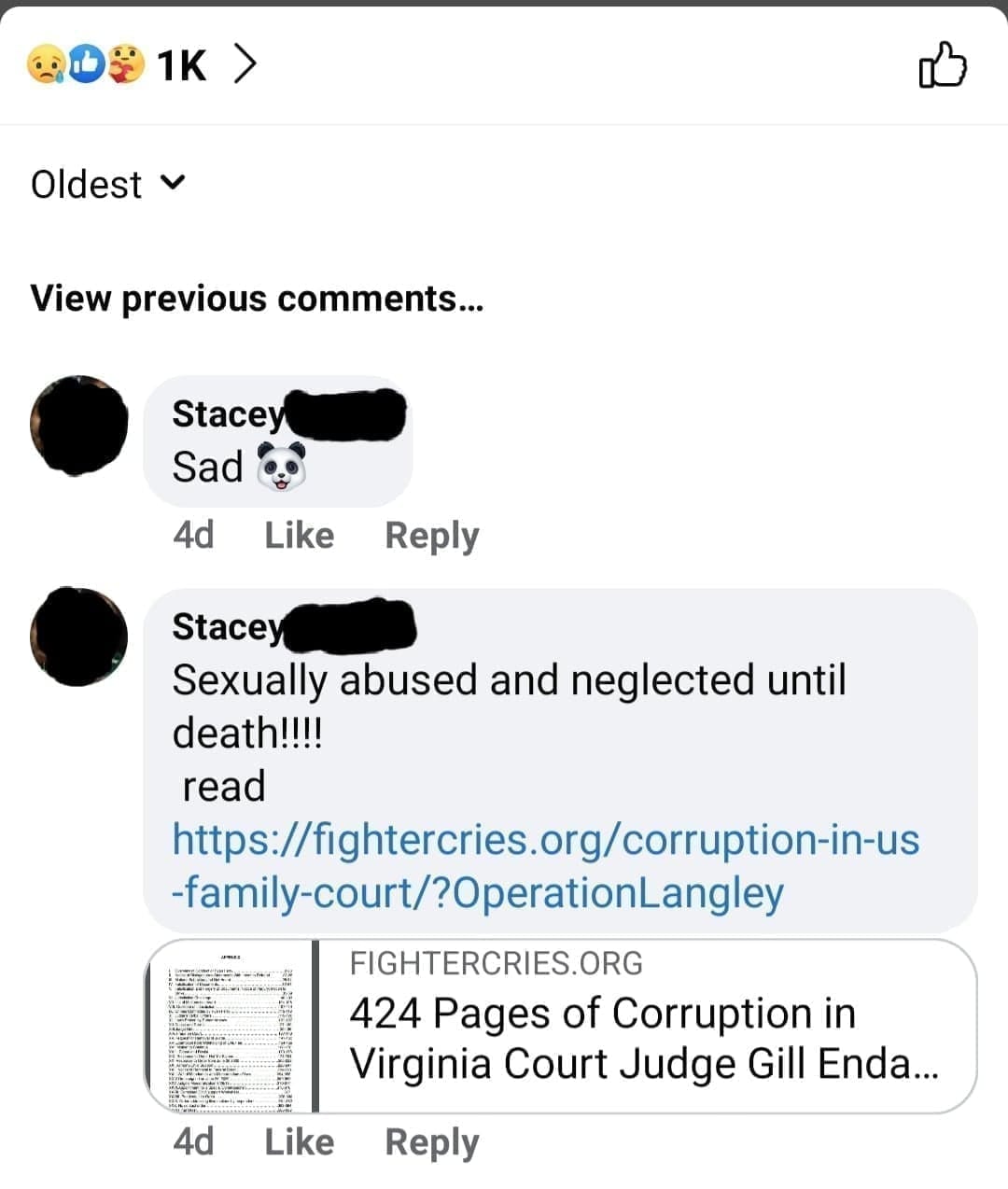 The court of Virginia is corrupt. We just received a 424 document detailing corruption in the Virginia courts to the highest level.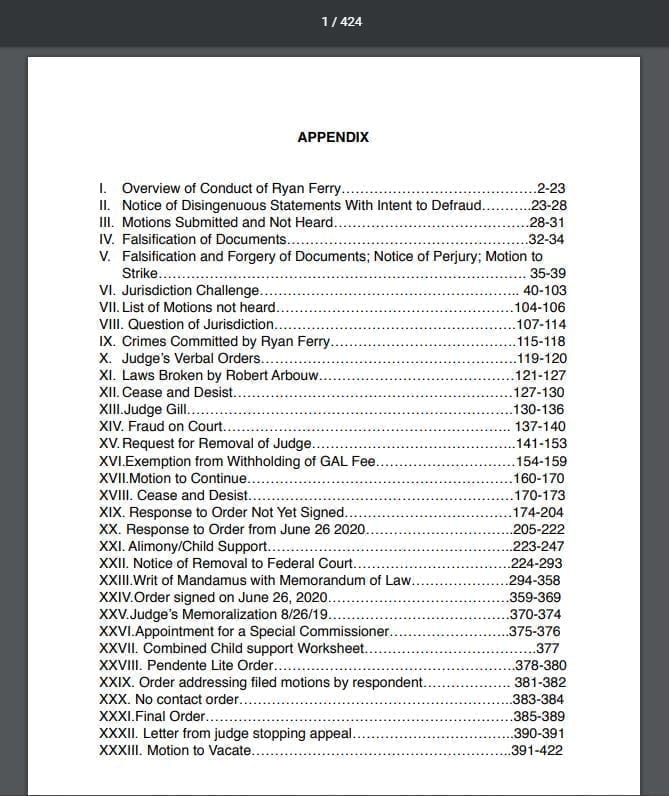 Instead of following the law, the Virginia courts are bullying Kimberly Lowe, they are trying to intimidate her, and they are blatantly breaking the law while putting her entire family in danger, and she just sent us ALL the proof so you cannot silence her Fighter Cries.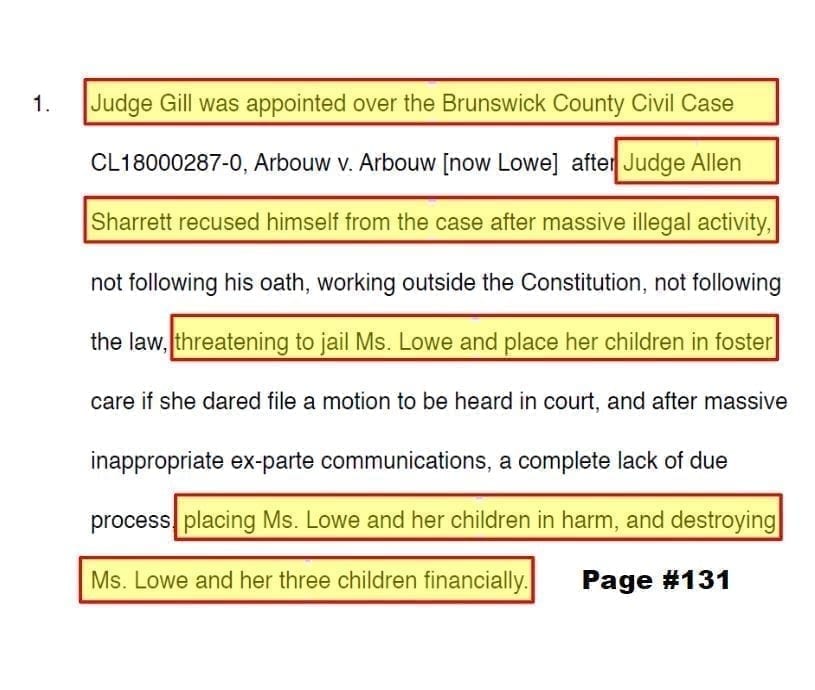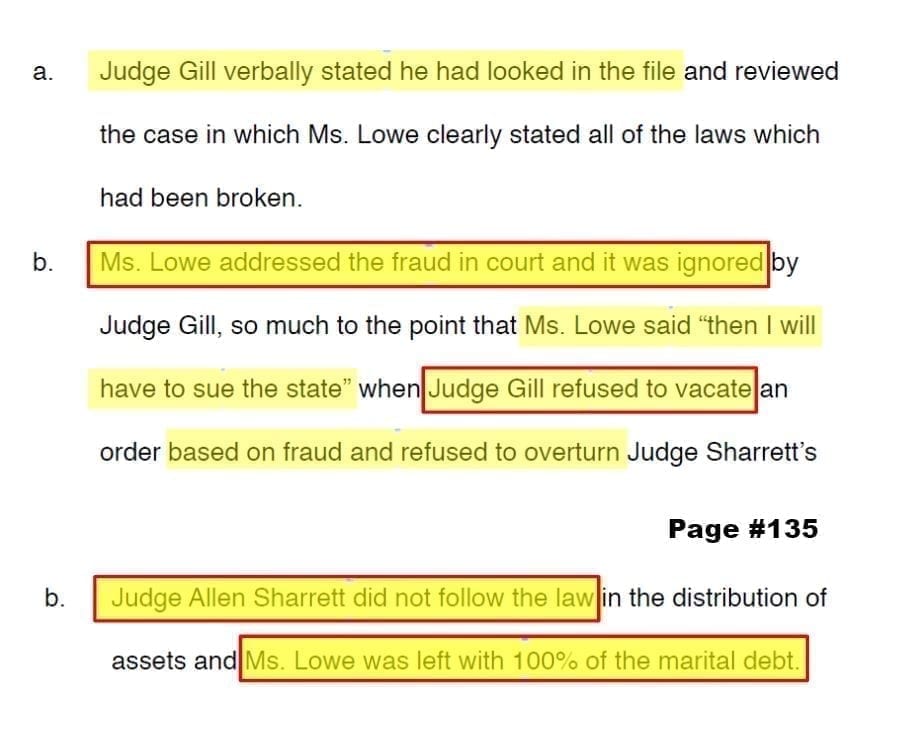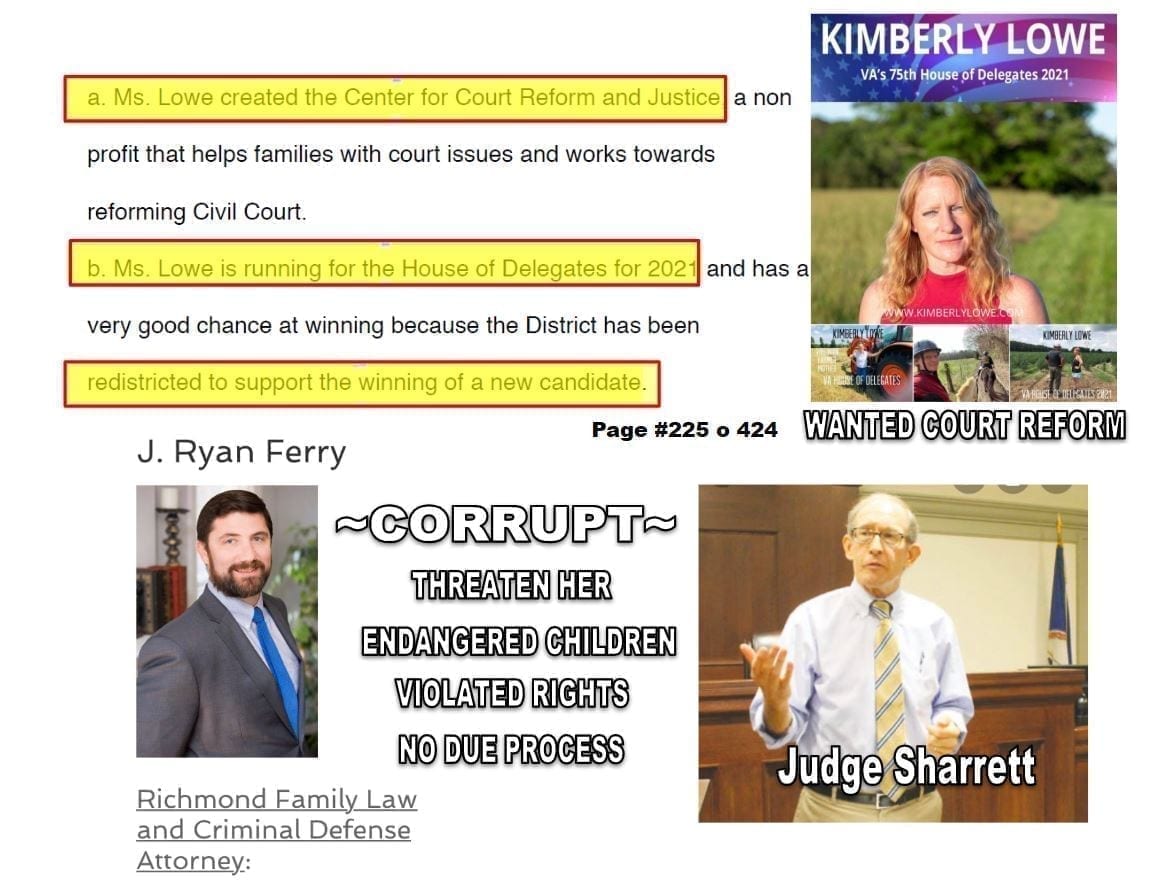 Too Late CPS
The document has already been duplicated, transferred, backed up, downloaded onto backups, and I even buried a copy in the backyard, or was it the front? Go look, it's too late. Welcome to the internet CPS.
Making a Difference
She is fighting to improve Virginia District 75: Brunswick County, Greensville County, Sussex County, Southampton County, and parts of Lunenburg County, city of Emporia and Franklin. Meet Kimberly.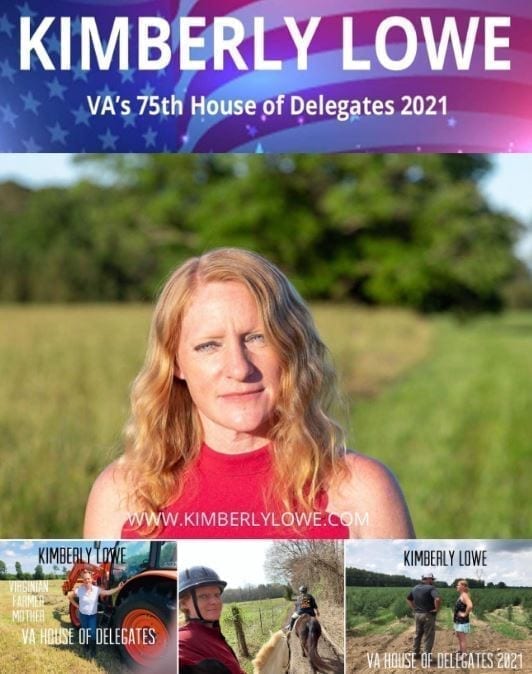 "You need a representative that will support your ideas, fight for the needs of your community and earn your respect. For someone who truly cares for your community, look no further. " ~ Kimberly Lowe
Being Silenced
The court of Virginia is corrupt, and they are trying to silence her. Judge Gill is trying to put her in jail for speaking out. We have the proof, 424 pages of it. These Judges need to go to jail.
OPERATION: "Langley"
Operation "Langley Tri-State" is a 100% legal peaceful "Social" gathering online, where the community peacefully and politely reaches out to the organizations that have the power to make a difference.
Together, as a Nation, all we are doing is using our mobile phones to simply let them know what is happening, in case they did not get the memo.
How it Works
Justice in 3 States | 15 Victims
Justice for James – Illinois
Visit: https://www.facebook.com/VillageofPalatine/
Visit: https://www.facebook.com/GovPritzker/
Justice for Kimberly Lowe Family – Virginia
Visit: http://facebook.com/GovernorVA
Visit: https://www.facebook.com/AGMarkHerring/
Visit: https://www.facebook.com/VAMFCU/
Visit: https://www.facebook.com/Virginia-Attorney-Generals-Computer-Crime-Section-117495484942020/
Justice for Kylees Fight & Fullerton Family – Oregon
Visit: https://www.facebook.com/multcoso
Peaceful Social
Operation name came from the 3 States we are focusing on and the fact every time our Oregonian volunteers hear "Virginia" used, one of the memorable location in Virginia is Langley.
We also kinda wanted to get their attention too, just so they'd look at this case. It's sad. They need to know what's happening. We are in no way threatening anyone with this peaceful operation. We hope someone in Langley, Virginia see this document. Thank you for helping.
Joseph McMahon's PUBLIC Facebook Friend List – Illinois State Attorney
Last but not least, this man is responsible for the death.
Joe McMahon's Facebook Profile: https://www.facebook.com/joseph.mcmahon.3388
Our team has already downloaded all of his "Public" friend list.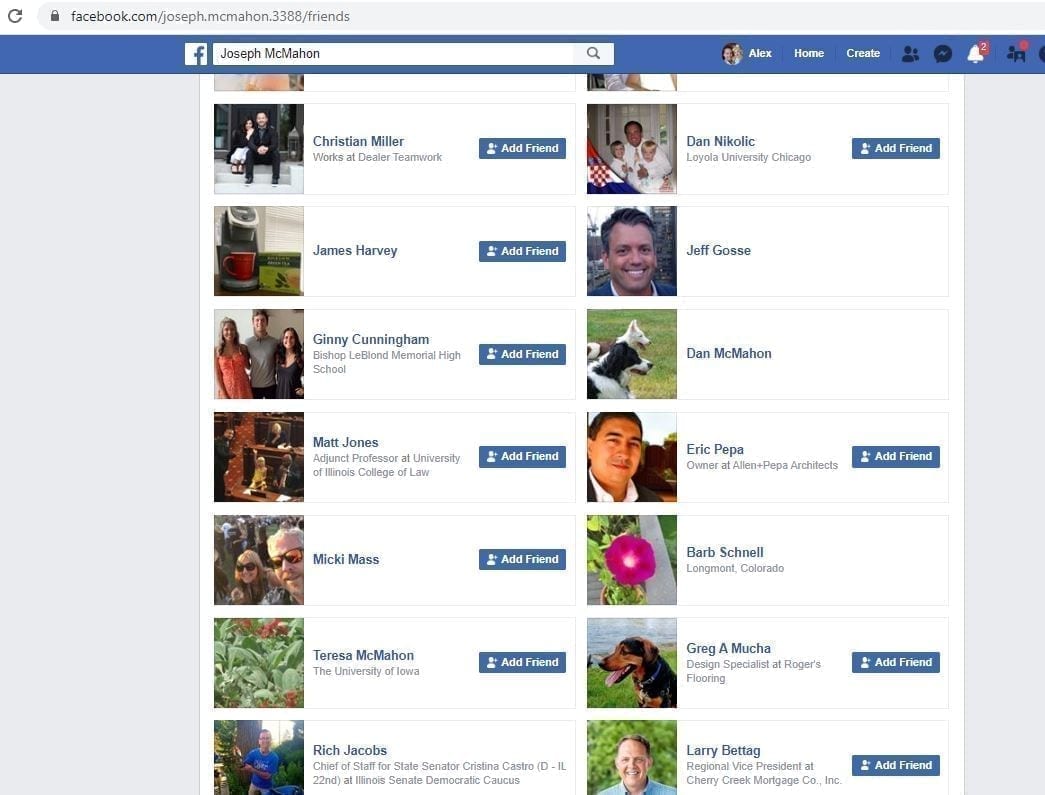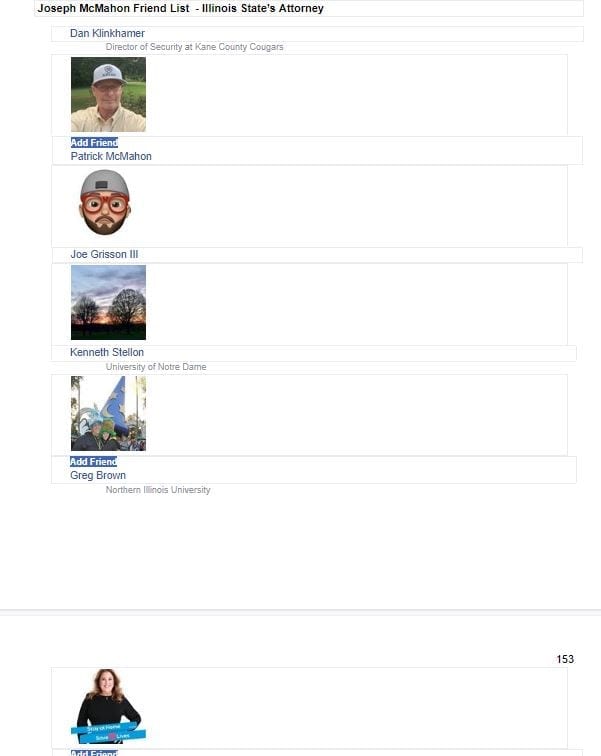 Please review both cases in their entirety. Click image to view Story with link back to this page when done.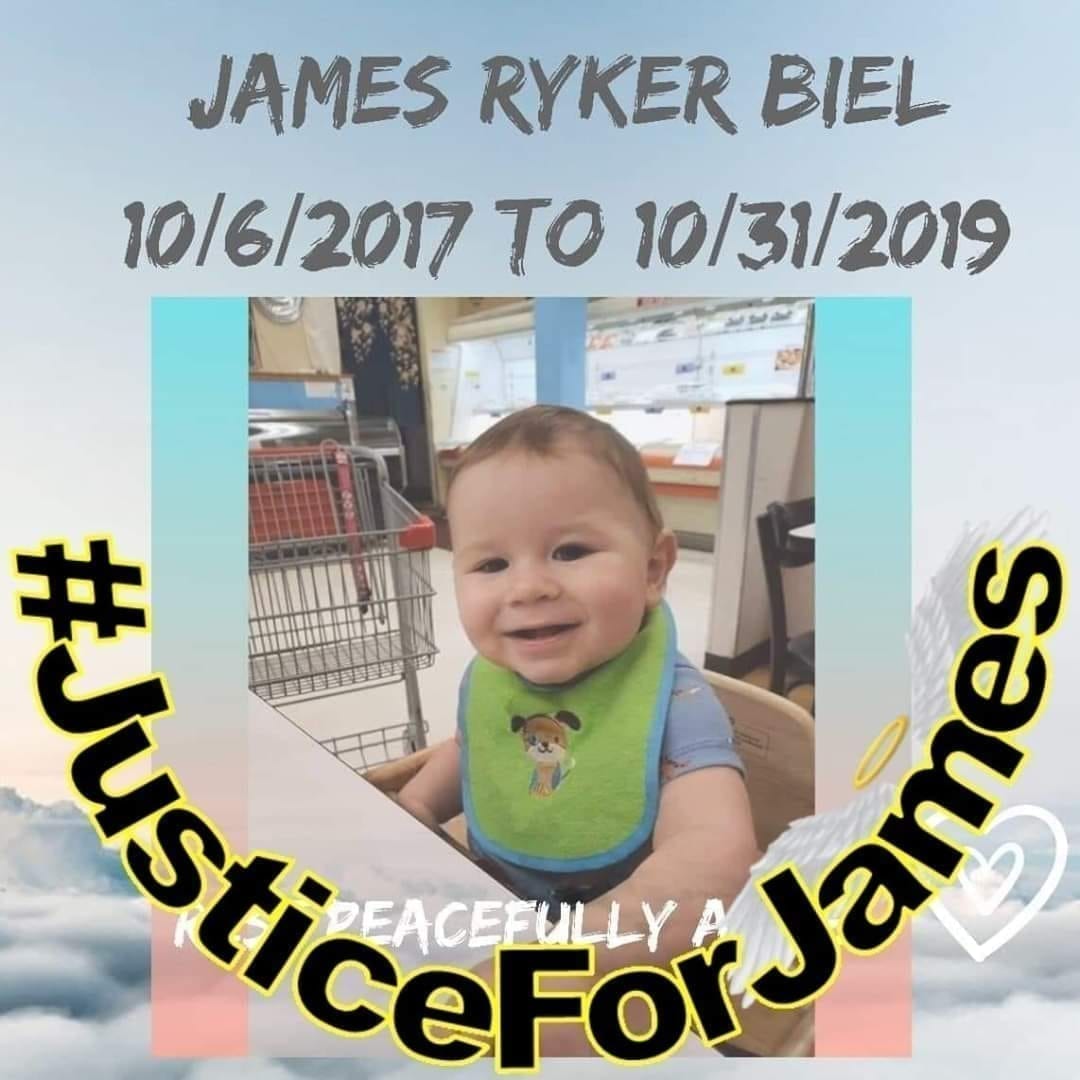 When the Justice For James case and Breanna Fullerton case are both examined, along side the other Illinois cases, when combined with the Las Vegas victim(s), there is a strong possibility that there is a connection in some way, and the case Stories have striking similarities.
By the time we see Justice for Breanna Fullerton and Justice For James, we will most likely have uncovered a massive sex trafficking ring within CPS that crosses State lines.
Image link to more evidence on her Story.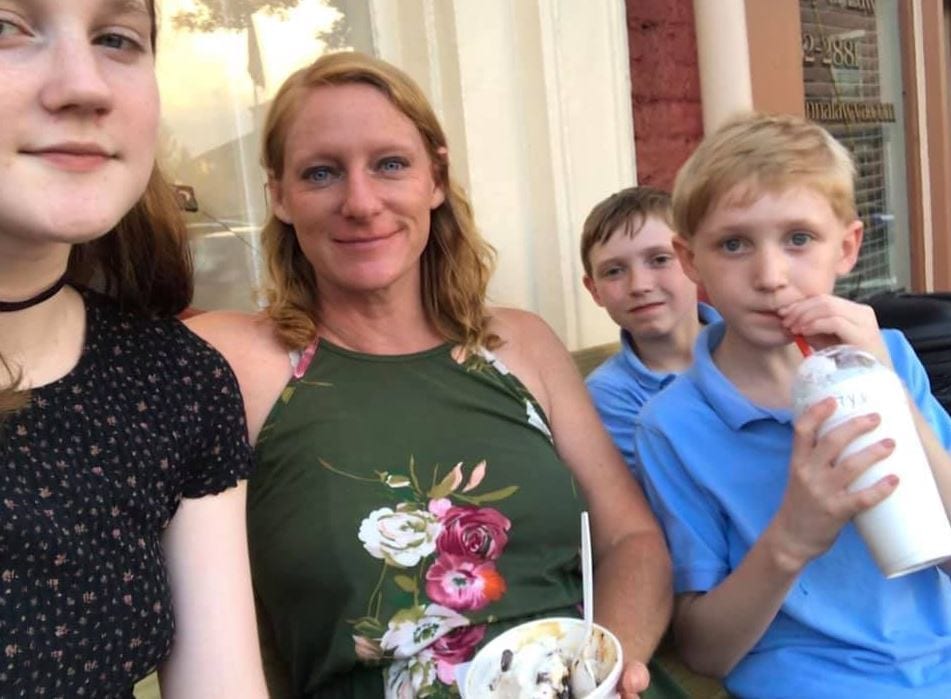 FAMILY COURT FAIL
Image link to more evidence on her Story.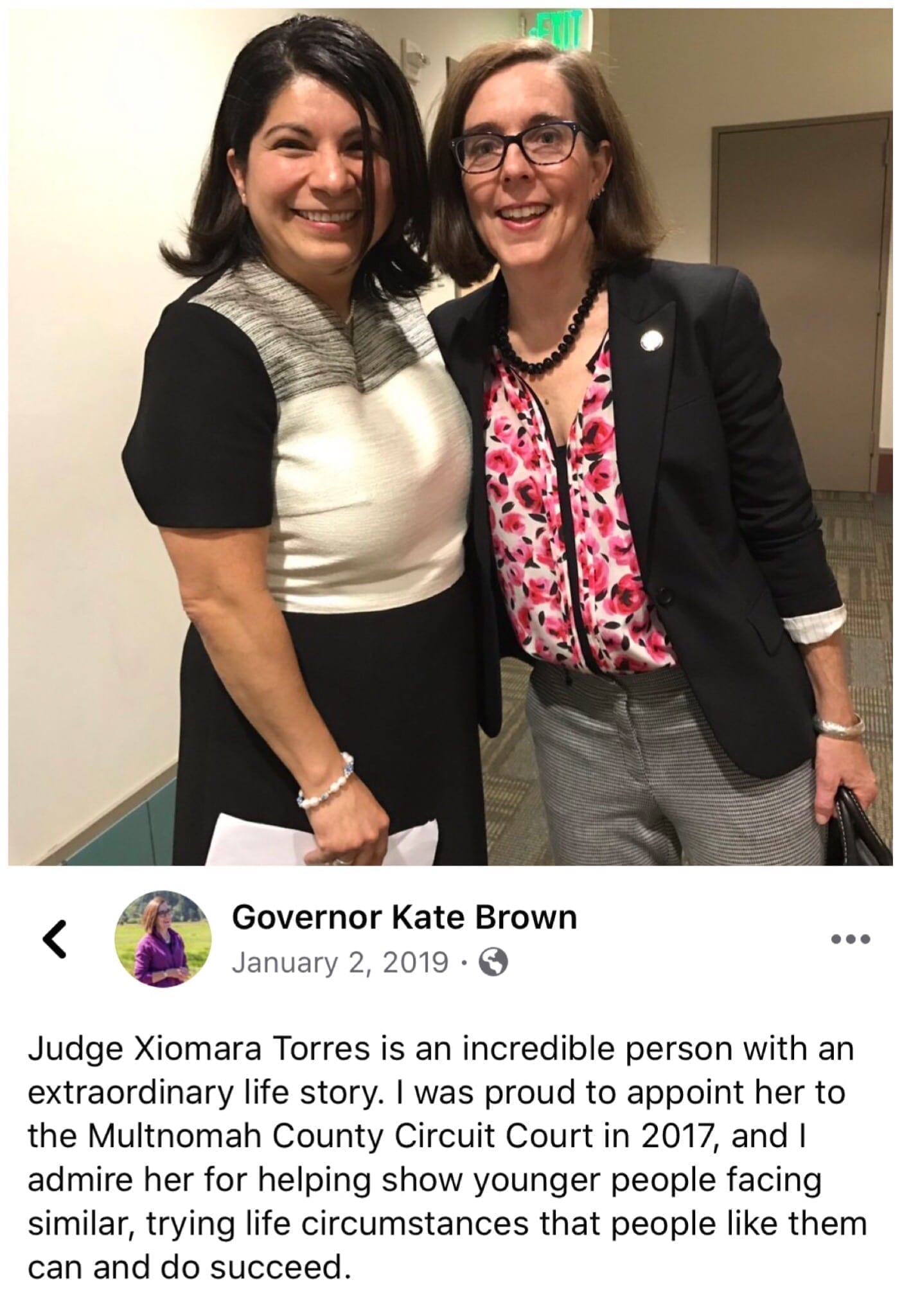 Please upload your business into the Here To Help Directory so we can use your services. Thank you.