CPS COVERUP "Children Sexually Assaulted under CPS care; Corrupt judge still terminates the parent's rights."
We lived in Texas for 70 days before CPI Erica Jackson Illegally removed our children with no court order, warrant, and no law enforcement. On May 6, 2019, we asked the school-Speegleville Elementary for help for our child who was depressed, despondent, and becoming violent to her siblings and our dogs. The same teacher we asked for help from is the same teacher who called CPS on us.
The Texas Children's Commission states that if a family asks for help, CPS is not to get involved except to help the family.(http://parentresourceguide.texaschildrenscommission.gov/)
This same CPI was acting outside of her jurisdiction, violating the color of law as she was from Bell County, and we are in McLennan County. She perjured herself 3 times.
1. Paperwork submitted to court states she went to the house, peaked through our large panel windows (indicative of casing our house), and then the school.
2. Under oath on June 11, 2019, with Ad Litem Amanda Milam questioning her, CPI Jackson testified she only went to the school.
3. During our trial on July 15, 2020, CPI Jackson testified that first, she went to the school, then she went to the house, then she went back to the school. She testified there was no fence around the house and that she didn't see our dogs, but that there was open bread on the counter. How can she remember open bread, but not something as common as a fence?
We were kept silent throughout the entirety of our case until the very final day of the trial (August 3rd, 2020) in which we testified, had witnesses, showed evidence of perjury, a video of my then 6-year-old child alleged sexual assault by "Those big boys, at the CPS's House." My child gave the names of these boys and showed us with her mouth (on video) that they were taught oral sex. The video was submitted to the court.
On April 15, 2020, Judge Nikki Mundkowsky heard my testimony of said video. She cut the hearing short to have a bench conference with the attorneys and according to my attorney stated, "I believe the mother because this happens in foster homes all the time."
On August 3, 2020, I gave a testimonial description verbatim of said video and Mundkowsky was able to view the video. At the beginning of our trial (July 15, 2020) Judge Mundkowsky state:
"This court accepts hearsay." Although she said she believed me, and viewed the video, heard my testimony, she still terminated our rights based on hearsay and reasons completely unrelated to our case. One reason she terminated our rights was based on "disobeying court orders"
The only written court orders were the family plan, 30-day separation from my spouse, and interactive counseling. The rest were verbal. We obeyed ALL court orders. Completed "protective parenting" classes for which we have certificates.
Mundkowsky is not only a former CPS attorney, but she is also a former Adoption attorney:
(enclosed is USC 28 455 (a) and (b) where it states if bias is present; the judge must recuse themselves she violated and broke this law)
Mundkowsky is an associate judge who was hired to take care of family court cases by Judge Colley of McLennan county. She also has the duty of swearing in all the CASA.
On September 2, 2020, our caseworker, Kimberly Witt became a CASA advocate supervisor. (As seen in our Snapshot from the CASA of McLennan County Facebook page) Upon doing a background check of our own on Kimberly Nicole Witt, we found that she is a former employee of the Center for Cognitive Behavior Education.
My husband was ordered to take a BIPP class (Batterer's Intervention and Prevention Program). I offered the Judge evidence proving contrary to allegations regarding spousal abuse. Nikki Mundkowsky denied my evidence and ordered my spouse to attend the program. Kimberly Witt sent him to her former employer, Center for Cognitive Behavior Education. It is to our knowledge that the instructor, Ms. Ludwig knew Kimberly Witt from her previous employment with the center. We did a previous background check on another site, and found a Kimberly Nicole Witt who was investigated by DOJ and other agencies; we are unsure if it is the same Kimberly Nicole Witt who was our caseworker. 
Judge Mundkowsky is presiding over another case in which the mother-Laura Sanchez-Villalon lost her rights to her first 5 children due to meth use. This mother has three more children, including her 2-year-old son who she murdered and dumped in a dumpster. His name was Frankie Gonzalez. She lied to the police, stating she lost him at Cameron Park, then took police to the dumpster she put that innocent baby in. This mother had meth in her system, as did her 3-year-old daughter and 3-month old baby. According to an article we read, Mundkowsky is allowing this mother to maintain a say and rights in her two remaining children's lives from jail. The judge also sealed this case and it is still open.
My husband ran into Frankie Gonzalez's paternal grandmother who confirmed that the article was true and that she is not even able to get the court documents. In Texas, anyone can get court documents for a case unless a judge seals it. The grandmother also, informed my husband that Mundkowsky has several complaints about her with the SCJC (State Commission of Judicial Conduct) here in Texas.
On November 19, 2019, Assistant DA Bryan Price violated Spousal Privilege Rule Title 504. He reviewed it in court but stopped at subsection 4. He did not read on to 504 section 4c; (Roman Numeral) I; where it states © Crime against family, spouse, household member, or minor child (i) "proceeding in which a party is accused of conduct that if proved is a crime against the person of the other spouse, any member of the household of either spouse or any minor child;"
Nothing to this day has been proven. Mr. Price then proceeded to entrap me stating, "Well it looks like you have a choice to make, will you choose your husband or your children?" During the same hearing, Judge Mundkowsky violated my 5th amendment right by ordering me to answer a question I pled the 5th to. Stating, "It doesn't work that way, answer the question, actually I order you to answer the question." Due to Bryan Price's violation and entrapment, we lost our representation. That said, I believe our former attorney was colluding with the prosecution to find a way to be removed from the case.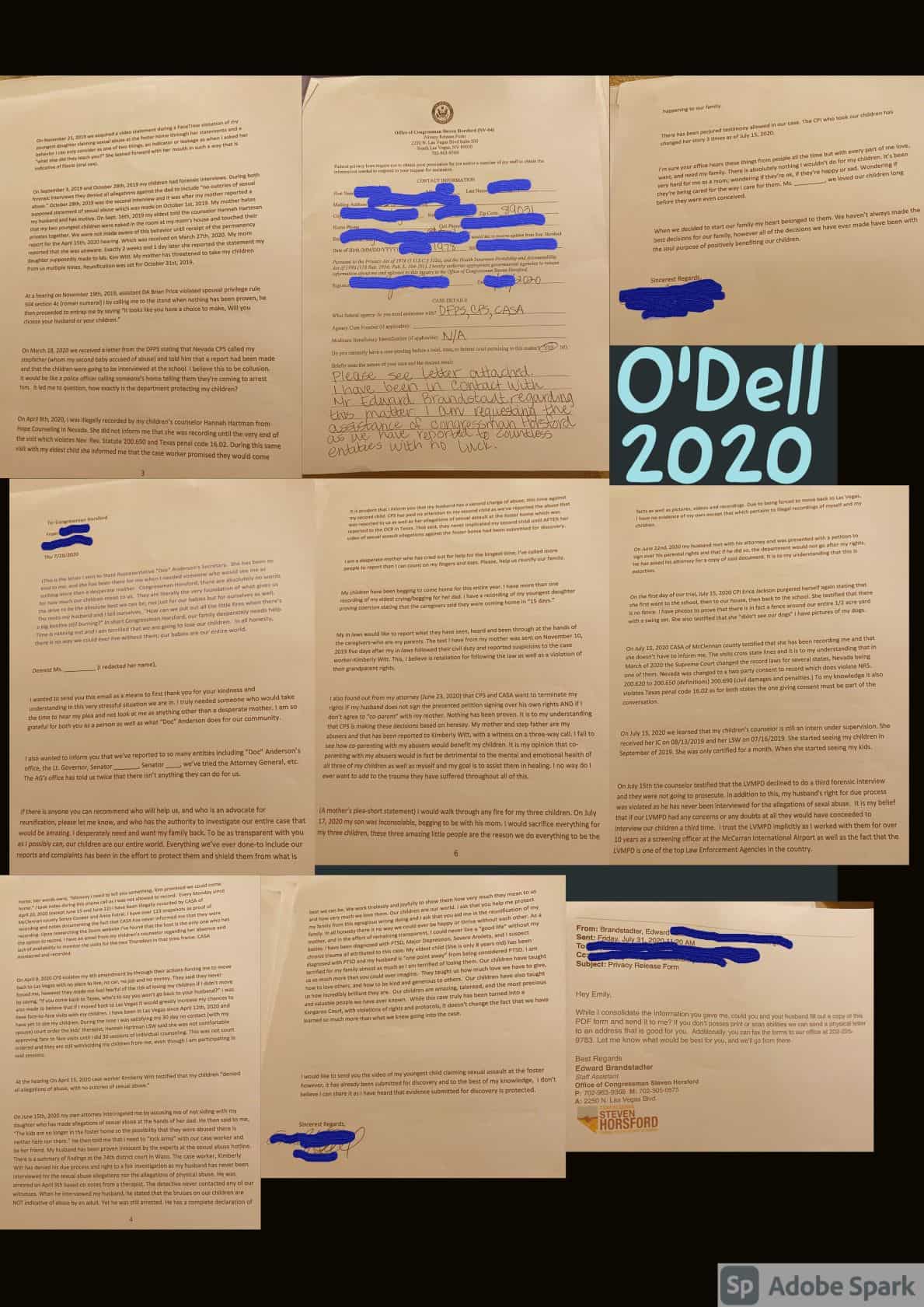 In the weeks prior to the November 19, 2019 hearing, he was complaining about a lack of payment. To piggyback on my child's allegations of sexual assault at the foster home, known as Fostering Hope, we had our final visit at the DFPS office in Temple, TX on June 5, 2019. When the MALE caseworker came into our room saying it was time to go, my girls started "freaking out" screaming, "We don't want you, we want our mom and dad!" At our first visit, May 31, 2019, my eldest child informed me that she told the HST; Stephanie (last name unknown) "My daddy would never hurt us." Upon calling the OCR, it was confirmed that that statement was documented. This was never brought up in court throughout the entirety of the case. I called and reported the wrongdoing many times to Kyle Arnold at the OCR and nothing was ever done.
On October 1, 2019, my mother placed false allegations of sexual assault on my husband, this is 30 days PRIOR to the reunification goal of October 31, 2019. These allegations were proven false with 2 forensic interviews yielding NO outcries of sexual abuse, as well as an interview my husband did with the sexual abuse hotline, showing the evidence to the worker he spoke to. She met him in person, viewed the evidence, and filled out a summary of findings, as well as changing his status from the accused to the victim. She allowed my husband to follow her to the courthouse and watched her give it to the district clerk. Mundkowksy threw it out because supposedly the affidavit was filled out improperly. On July 16th, 2020 Kimberly testified that not only did our children deny all allegations but that she requested a third forensic interview from LVMPD, and not only did they decline, but they also informed her that they will not be prosecuting.
I have recordings of my child stating they were being physically abused by the male caregiver, recordings of my children crying for their father, as well as more than 20 snapshots showing unlawful recording by CASA of McLennan County-Sonya Cooper, and Anna Futral.
CASA started monitoring all Monday visitations on 04/20/2020. During the trial, Sonya Cooper testified that Hannah Hartman gave her permission to record so she was not required to inform me she was recording. I was in Nevada, Cooper was in TX. Nevada is a 2-party consent to record state and whoever gives permission to do so must be part of that conversation. Hannah Hartman was never a part of our visitations on Mondays so both Hartman and Cooper violated NRS 200.620-200.650 as well as Texas Penal code 16.02.
The children's therapist, Hannah Hartman of HOPE counseling in Nevada, also illegally recorded a session I was under the impression was private on April 9, 2020.
She led my daughter into giving me allegations by stating "Tell mommy where it happened, tell mommy when it happened, tell mommy how many times it happened."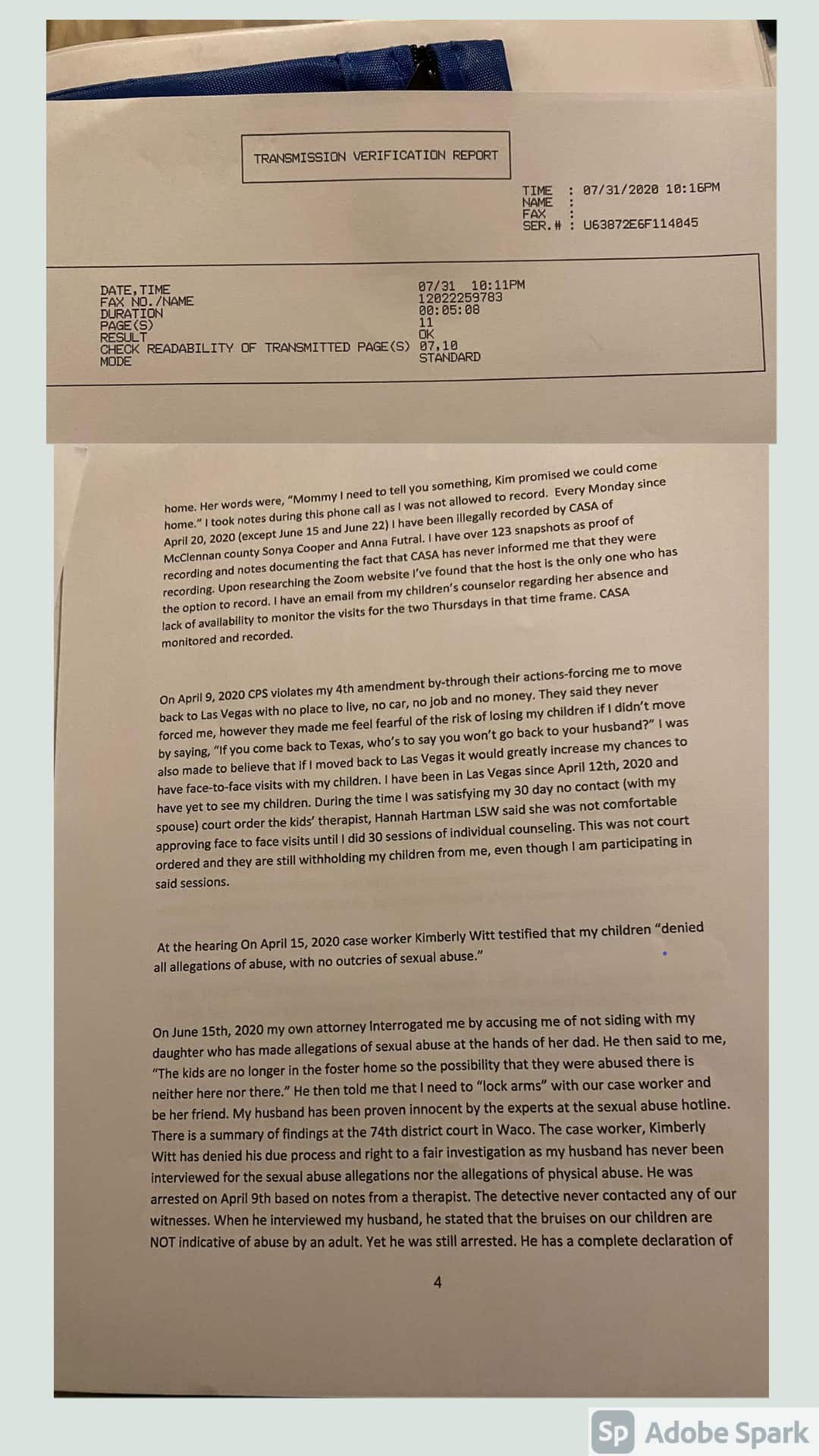 This not only violates HIPPA but this same counselor by recording and not informing me of the recording until the end of our session, also violates NRS 200.620-200.650 as well as Texas Penal Code 16.02. As I was in Texas and she was in Nevada. Nevada is a 2 party consent to record state. She did not inform me until the end which means she violated my right to contest the recording of myself and my children. CASA has also violated the same statutes in both states as she was in Texas and I in Nevada. CASA Advocate supervisor Sonya M. Cooper testified that the therapist gave her permission. What she doesn't know is that in the state of Nevada, whoever gives permission must be part of that conversation. Hannah Hartman was never a part of the visitation Sonya Cooper and Anna Futral monitored between myself and my children.
My husband contacted the court reporter; Carlee Leger of the 74th District court requesting the minutes from the April 15, 2020 hearing. He received an email from Ms. Leger stating that the hearing was never recorded. 2-3 weeks later I received a thumb drive of the audio recording for the April 15, 2020 hearing that my husband had previously requested. Since then he has tried to make contact with her 3 other times with no response from Ms. Leger. All attorneys have requested the court minutes to no avail. The 74th district court is refusing-through lack of communication-to give us the court documents that we have a federal right to.
Because of CPS and Judge Mundkowksy, I lost my federal career of 11 years. I started out as a federal Screening Officer and then worked up to a Behavioral Detection Officer. I wanted to do that for a few years and later start my own private investigation business focusing on protecting our military from wrongful suits as well as first responders for the same. Judge Mundkowsky ordered it verbally and then on November 19, 2020, while I was under oath testifying that I got a job closer to home which is what they all wanted,
Judge Mundkowsky stated, "It was pretty stupid for you to leave a good-paying job for a part-time one."
These are all the parties we have contacted.
Senator Ted Cruz-nothing they could do
Senator Bryan Birdwell-nothing they could do
State Rep Doc Anderson-3 times, nothing they could do
State Rep Kel Seliger-not in their jurisdiction/district, nothing they could do
Lieutenant Governor Dan Patrick-nothing they could do
Governor Greg Abbott-nothing they could do
Attorney General's office-twice-nothing they could do
Congressman Horsford (D-NV)-nothing they could do
Congresswoman Dina Titus (NV)-did not answer the phone nor return my call.
Senator Bob Hall
State Rep Cody Harris
Texas Supreme Court
President Trump-3 times alerting him to the corruption in Texas.
US Office for civil rights and liberties-nothing they WOULD do.
DHS (Dept. of Homeland Security)-nothing they could do.
FBI-don't take these kinds of cases.
OCR (Office of consumer relations)-This agency (TX) handles case specific complaints about CPS and they did absolutely nothing except side with Kim Witt and CPI Erica Jackson, and inform us that CPS NV colluded with the accused regarding a recording of my daughter claiming abuse by her male caregiver. (I have the letter)
Waco Sheriff Dept.
LVMPD
Austin PD
THSC-nothing they could do
TPPF-nothing they could do
Parental Rights Foundation-can only give amicus brief
BACA-can't do anything unless our rights were still intact
I want justice for my family ESPECIALLY my husband and children. My husband for the defamation of character, slander, and sexual discrimination as EVERYONE involved in our case was female. The CPI, CVS, Ad Litem, CASA, Judge. Only males were the prosecutor, our attorneys, and the detective who arrested my husband with what we believe to be a picture of a child's arm that did not belong to our child because in ALL of our pictures before removal and at the physical visitations show NO BRUISE on ANY of my children's forearm. The picture was in black and white and did not have any child's face in it. I asked the detective what my daughter was wearing, he said "A white flower dress." The daughter he claimed this is a picture of doesn't have a white flower dress. The Waco Tribune-Herald wrote an article about my husband with minimal to no truth and because of that he has received death threats. My husband was arrested, on April 9, 2020, almost a whole year after the start of our case which was May 23, 2019. He has yet to see a warrant, had his firearm confiscated for reason completely unrelated to the arrest, and was informed by his attorney that the DA did not like how low his bail was set for which was $10,000. So she tacked on another charge and raised his bail to $30,000 without cause.


From: Carlee Leger
Date: September 19, 2020 at 5:52:36 PM CDT
To: William ODell
Subject: Re: Transcripts


Mr. O'Dell,

I accept payment via PayPal, Venmo, Zelle, or an old-fashioned check or cashier's check/money order sent via snail mail. Please advise as to which method you would prefer.

Typed with thumbs on an iPhone so please excuse typos/brevity. 🙂


Carlee Léger, CSR


On Sep 19, 2020, at 3:15 AM, William O'Dell wrote:


I would greatly appreciate a copy of that hearing. Mr. Crosby contacted me and I will be sending him a thumb drive for the recording from Jun 11th. I appreciate the help and will await your reply as to how to work out the payment.

Thank you,
Mr. William O'Dell



From: Carlee Leger
Date: September 15, 2020 at 9:46:10 AM CDT
To: O'Dell

Mr. O'Dell,
I received your request of transcripts from Ms. Nichols. The only date I took a record for other than the final hearing was the November 19th hearing. The estimated cost for that record is $250 for a two-week turnaround once payment is received. I will refund any overpayment when I provide you the transcript. If you would like to order the record, please let me know, and we'll figure out how to handle payment. Mr. Sam Martinez has copies of the transcripts from the final hearing.

Sincerely,
Carlee Leger, CSR
.